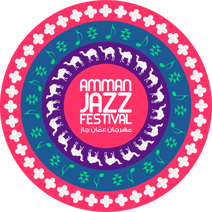 MaDaBa Trio
Netherlands
FEATURED BANDS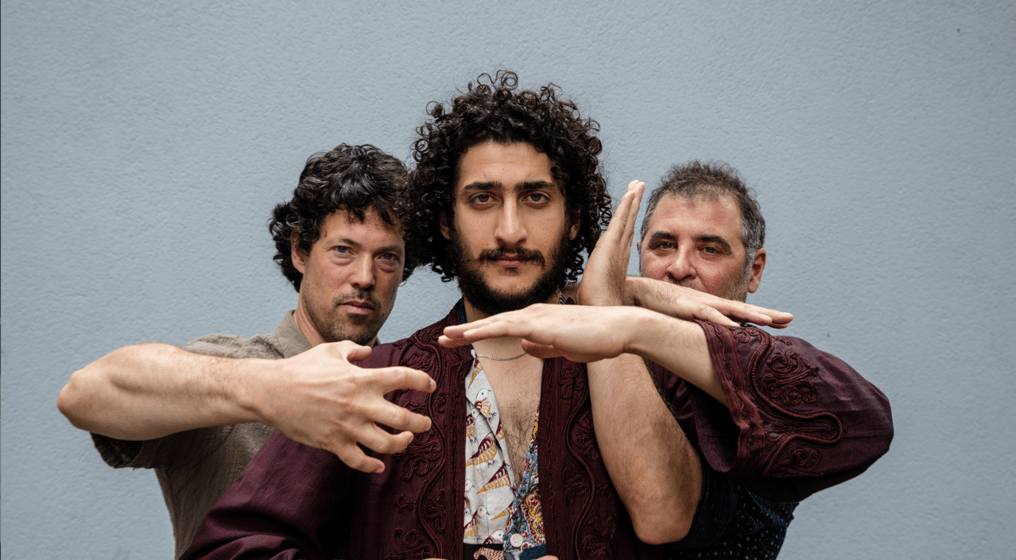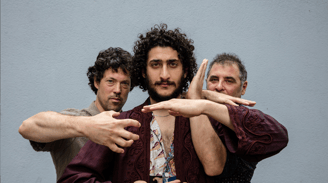 About MaDaBa Trio:
MaDaBa is a brand new trio born in 2023 in Amsterdam, the Netherlands. Inspired by an ancient town in the Levant called "The City of Mosaics", MaDaBa's name reflects the trio's passion for combining the past and present, resulting in a meeting point between the Orient and Occident.

MaDaBa's original compositions blend the language of Middle Eastern maqam with contemporary jazz, creating a vibrant improvisational world. MaDaBa invites you on a musical journey where tradition and innovation harmoniously intertwine.
MaDaBa, also known as "The City of Mosaics," derives its name from the Greek word "mouseion," meaning "muse" or "inspiration." A new trio born in The Netherlands in the spring of 2023.
MaDaBa, a captivating trio born in the spring of 2023 in the Netherlands. Also known as "The City of Mosaics," MaDaBa draws inspiration from the Greek word "mouseion," signifying "muse" or "inspiration."
Fusing the language of Middle Eastern Maqam with contemporary jazz, they weave a tapestry of colorful improvisation.
The Musicians:
Three talented artists from diverse lands. Allow us to introduce Nawras Altaky, a masterful Syrian vocalist and ud player, Sjahin During, a dynamic percussionist hailing from Turkey and the Netherlands and Tony Roe, an expressive Dutch pianist. Together, they embark on a quest for freedom and artistic expression, inviting you to join them on an immersive adventure through their heartfelt music. Prepare to be enchanted as they harmoniously weave together mesmerizing melodies, dynamic rhythms, and captivating stories, painting a tapestry of pure musical magic.
MaDaBa Trio
Nawras Altaky - Vocals & Ud – SYR

Tony Roe - Piano & electronics – NL
https://tinmenandthetelephone.com/nl/tony-roe/

Sjahin During - Afro Anatolian percussion - TR/NL
Videos:
https://www.youtube.com/watch?v=Ov-9kB5vbAY
https://www.youtube.com/watch?v=Ov-9kB5vbAY
Nawras Altaky is a vocalist, composer and Ud player based in Utrecht the Netherlands. Born in 1995 in "As-Suwayda", or the Druze Mountain of south Syria.
In his compositions and performances, he explores new world music through interdisciplinary collaborations and intercultural projects, next to performing a varied repertoire of classical, traditional, modern, experimental and new world music.
​
NRC: "Altaky distinguished a warm baritone voice with which he can sing breathtakingly, colourful, softly and effectively build tension through a sublime sense of timing."
​
Nawras is a graduate from the conservatoire of Utrecht, as a composer & Music Performance Artist class of 2022, and currently studying a Master's degree centered on composition and performance arts in Utrecht Conservatory.
​
As a composer Nawras expresses the strong connection between the different musical cultures he experiences such as Arabic and Western music. All merged in a virtuosity of contemporary and modern compositions flavored with the beauty of Arabic melodies, the freedom of jazz harmonies and the power of classical counterpoint.
​
His inspiration is mostly driven by his values such as, freedom, humility, honesty, love and joy.
Altaky supports his message delivery with text, performance arts and visual arts.
​
Worked as a composer at the Music Meeting in Nijmegen. In May 2021 Nawras premiered five compositions varied in style for a mini orchestra at the Music Meeting festival in collaboration with Vrije geluiden VPRO. Also commissioned by the Grachtenfestival he premiered the composition
"Labels Are Not Our Names" in Paradiso Amsterdam on the 15th of August 2021. Under the theme Listen! Music as a protest, he wrote this manifesto-composition that protested against labelling, dehumanization and thinking in boxes.
​
In 2022 Altaky in collaboration with the Dutch composer Tijn Wybenga premiered two compositions first at North Sea Jazz Festival in Rotterdam and the second at November Music in Den Bosch. For the project AMOK they integrated his Vocals, Ud and Arabic modality into a modern jazz context. Nawras sees himself as an activist and a change maker. In March 2020 he wrote the song SOS Moria to help and safe 500 children in the refugee camp Moria. The composition was played as solidarity action all over The Netherlands by different artists and by church bells.
​
As a performer Altaky shared the stage with Caro Emerald, Ellen Ten Damme, Oene van Geel, Janne Schra, Kim Hoorweg, Nai Barghouti, Toni Roe, NBE, Nizar Rohana and many other wonderful artists. Performed for, North Sea Jazz, November Music, Grachten Festival, Le Guess who, International Music Meeting, North See Round Town, Wonderfeel festival, Tweetakt, Djemaa el Fna, The Parade, Gaudeamus, On The Roof and more.
In 2017 he formed his own band Dyar (which means home in Arabic) together with Lucas Dols (double bass), Modar Salama (percussions) and Ghaeth Almaghoot (clarinet).
Tony Roe is the pianist, composer and band leader of the three man formation Tin Men & The Telephone, which made a name for itself with its inventive use of video, live-sampling and interactive technology. The most recent album Appjenou?! Was released in the form of a mobile phone app. Tony Roe studied classical piano at the Royal Conservatory of The Hague with honors, jazz piano at Conservatorium van Amsterdam and music technology at HKU. In New York he followed classes with the like-minded musicians Jason Moran, Jean-Michel Pilc and Ari Hoenig.
Every year the North Sea Jazz Festival offers the award in collaboration with the Dutch Fund for the Performing Arts, to a highly promising Dutch jazz composer. The jury of North Sea Jazz Festival report says: 'Tony Roe's compositions are clear and full of surprise, he presents contemporary, ground breaking compositions.
Sjahin During
Born to a Dutch father and Turkish mother Sjahin During was raised in Istanbul for the first six years if his life before moving to the Netherlands to small island if Textel in the North Sea. His meticulous attention to his art and profession runs in the family. His grandfather once led the second violin section at Amsterdam's world-renowed Concertgenouw Orchestra, while his father is a designer, chair-maker and luthier and mother is an accomplished ceramic artist.
Sjahin has been founder of Mundus Productions and artistic leader of many renowned groups which toured worldwide such as Namibian Tales, Arifa & Voices from the East, Afro Anatolian Tales, Tarhana. He is a producer and teacher of world music, specialized in percussion at various conservatories. He performed worldwide in more than 50 countries at major jazz and world music festivals
PERCUSSIONIST
Sjahin draws inspiration in equal measure from the metrical science of South Indian music to the rhythms of the Mediterranean basin, Middle and Near East, India, and the masters of jazz. A career spanning more than twenty-five years has led him to many parts of the world.
Studying with masters from Cuba, Turkey, Middle East, India, and Africa he has incorporated elements of what he learned into his own cross-cultural projects that blend idioms from western jazz, classical and improvisational music with traditional Indian, Turkish, Balkan, Afro- Cuban, and the mesmerizing music of the San-Bushmen from the Kalahari Desert. To suit the needs of each of these ensembles he designed his own hybrid percussion set drawing on instruments from various continents.
ARTISTIC CREATOR
Sjahin's excellence as a player is equally matched by his talent for bringing together musicians into formations of unique quality and depth, dedicated to exploring contemporary takes on these ancient traditions. In 2007, he set up the foundation, Mundus Productions, for the recording, production, and promotional activities behind his own tailor-made music ensembles. These include Bayuba Cante, Afro Anatolian Tales, Turqumstances, Tarhana and Arifa.
Under the Mundus Productions umbrella Sjahin is also the catalyst, artistic director and driving force behind the formation, musical and career development of new groups, such as Mundus Quartet, Namibian Tales and Cacha Mundinho. He loves encounters and opportunities to create bridges between East and West, between various music genres.
EDUCATOR
Sjahin has also been active as a teacher at conservatories in Canada, China, Iran, Latvia, Mexico, Turkey and The Netherlands. Having developed his own teaching program for the Conservatory of Utrecht (HKU) Sjahin has been giving workshops named "Non-Western Rhythms and Techniques" to students for the past 17 years to help expand their rhythmical skills and knowledge and how to integrate these rhythmical concepts in their own music.
He has also been working worldwide with children in refugee camps and slums in Syria, Lebanon, Turkey, Egypt, Jordan, Greece and India.