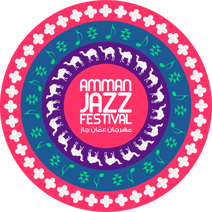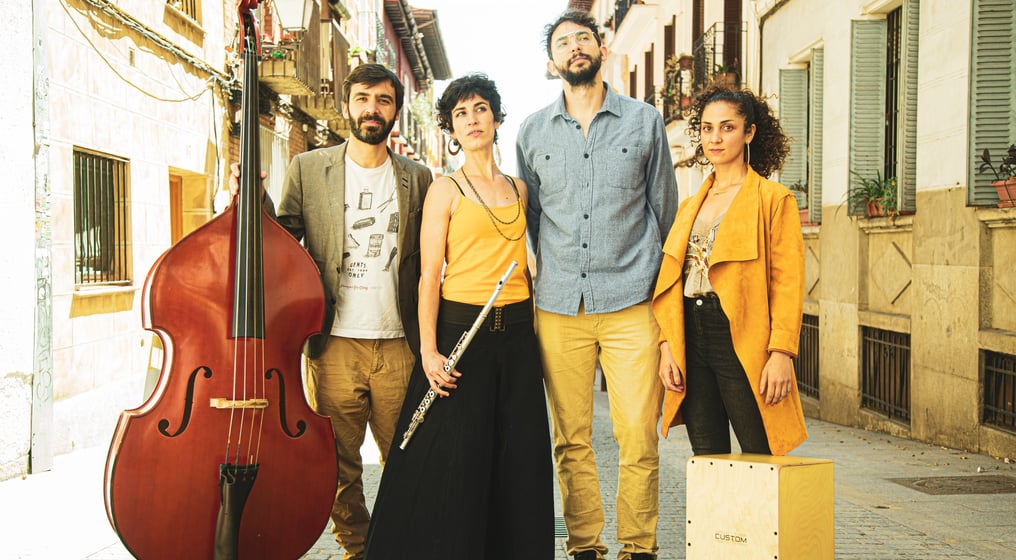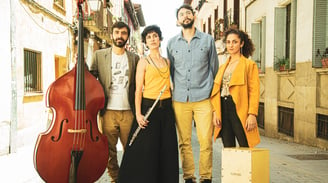 WAMLA is an original musical project
introduced by the Spanish flute player Clara Gallardo and pianist Julio Martín.
Drawing inspiration from jazz, classical, Brazilian and Latin American music, as well as influences from Eastern and Mediterranean musical traditions, WAMLA creates a unique and captivating repertoire shaped by original compositions. They also put their own spin on pieces by composers who have influenced their musical journey.
A musical journey through their own imagination, a musical world inspired by different influences and languages.
After ten years of playing and working together,Clara and Julio give shape to their personal project, creating music with their own sign of identity.
In June 2023,they released their debut album, a record featuring seven original compositions with Collaborations from prominent musicians, where they share their musical imagination and soul.
Wamla has taken it proposal to venues and festivals in Spain, France, Portugal, Latvia or the
Netherlands like: Détours de Babel (Grenoble), Lettres sûr Cour (Jazz à Vienne), Mass Theater Rotterdam, Fest. Groove Alentejo (Beja), Fest. JazzCádiz, Ventolera (Montefrío), Fest. JazzSelpia Fest. MusiCares, La Guajira (Almería), Teatro Tribueñe (Madrid), International Fest. ORIGEN Orce...
Clara Gallardo
Clara Gallardo is a versatile flutist from Malaga developed in various artistic disciplines. With a solid classical music training, she moved to The Netherlands in 2013 to study World music at Codarts, Rotterdam. Her links to Latin American music, flamenco, Brazilian, Indian or Turkish music have led her to travel with many projects throughout much of Europe, as well as Mexico, United States, Argentina, Brazil, Morocco, China or India.
She has other personal projects as Zopli2, with the musician Joaquín Sánchez; she's collaborated with artists like Niño de Elche, Pepe Rivero, María Yfeu, Lucía Fumero, Martín Meléndez or André Mehmari, and in multidisciplinary projects with Manuel Segovia, Carlos Marquerie, Javier Latorre, Cía. R.E.A. or UNO teatro. Soundtrack recordings, Radio and TV performances and music composition for shows like Consagración for Cía. Ibérica Danza, Trilogía del Misterio directed by Javier Latorre, or Descendimiento, finalist for the MAX 2022 as best theater show.
Julio Martín
Julio Martín is a pianist, keyboard player and producer. Born and trained in Madrid, he decided to move to the Netherlands in 2013 to study at Codarts, the University for the Arts in Rotterdam, and there, he not only focuses on piano but also develops in other disciplines like singing, percussion and music production. He delves into jazz, Cuban and Brazilian music, also making raids into other music such as flamenco, pop, Indian music, Turkish, etc.
After more than 15 years as a professional musician, he has toured most of Europe and Latin America, as well as China, Russia and the USA, working with artists of diverse styles and musical genres such as: Joe Bataan, Camilo Sesto, Malú, Canteca de Macao, ELE, Juanito Makandé, No Reply, Aurora García, Ede, Sambayá, Maria Yfeu, El Combo Batanga, Violeta Veinte, Roy Borland, etc.